Adobe Photoshop for Kids (Live Virtual Classroom)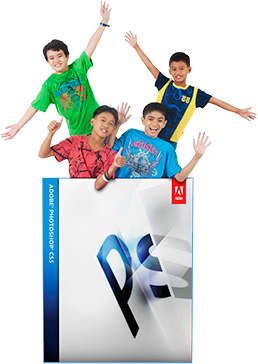 In our fast-changing world, Adobe Photoshop is considered essential knowledge. Help your children gain this knowledge and go beyond basic applications (Word and Powerpoint). Using Photoshop, students can enhance their school work; the science poster, the history presentation, the school paper illustration and more. And there is no software more often used and more helpful for project requirements as well as personal hobbies (e.g. photography) as Adobe Photoshop!
This workshop is ideal for kids, 9–15 yrs old. Older teens can still attend the workshop if they want to, or choose to attend our Adobe Photoshop CC Basics class.
Method of Teaching
This course provides live instructor-led demonstration and discussions, student engagement and hands on exercises using Zoom, Google Classroom and Adobe Photoshop CC. When necessary, students will complete exercises after-class to be submitted before the next one.
Course Outline
1

Starting Adobe Photoshop

PCCI Anywhere Orientation
Running Adobe Photoshop
Zoom & Navigate a Photo
Using a Tool
Saving to Different Formats

2

Selecting Objects

Using Marquee, Lasso, Magic Wand & Quick Selection Tools
Moving/Copying a Selection
Modifying a Selection (Add or Subtract)
Transforming a Selection

3

Fixing Photo Problems

Cropping an Image to Size
Adjusting the Tone or Color of the Whole Photo
Adjusting the Tone or Color of a part of the Photo
Fixing Defects

4

Using Layers to Put Together Your Project

What are Layers?
Combining Photos
Layer Properties - Opacity, Blending Mode
Moving, Transforming, Linking Layers
Creating Color Gradients
Adding Text
Merging Layers
*Instructor may adjust the timings based on the class progress and the number of participants. There are hands on exercises throughout the entire course and submission of the final project concludes completion of the course.
Prerequisite
Students must have the following: Zoom application, Gmail account (for Google Classroom) and Adobe Photoshop CC (lower versions are acceptable however maybe restricted) and stable internet connection. For more details, check our ONLINE TRAINING FAQs.
Schedule
Dates
Time
Jan 30, Feb 6, 13, 20 (Saturdays)
9:00 am to 12:00 pm
morning class
Payment Options
There are several ways to pay:
Online bank transfer or bank deposit
any Rizal Commercial Banking Corporation (RCBC) branch, in favor of Philippine Center for Creative Imaging Inc, S/A 1-249-91545-5; or
any Banco de Oro (BDO) branch, in favor of Philippine Center for Creative Imaging Inc, S/A 00429-0078357.
PayPal
DATE(S):
TIME:
INSTRUCTOR(S):
FEE:
PhP 4,000 inclusive of VAT.
A student who has registered to our physical classes may avail of online classes instead. The difference in fees will be converted to store credits or applied to other online classes that he might want to attend.
Includes materials & e-certificate at the end of the class.
Be sure to read the Registration Info before registering.